"Quite Possibly The Most Important And
Most Profitable Promotion You'll Do All Year"
—Ty Bollinger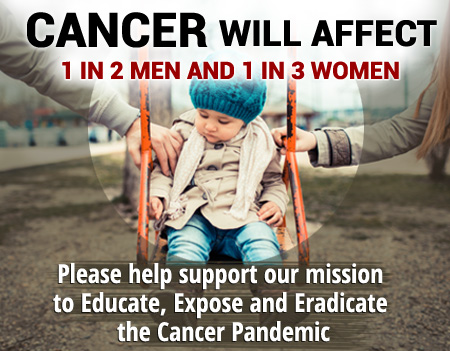 source: World Health Organization
Yes, you read that right…
The World Health Organization has stated that 1 in 2 men and 1 in 3 women alive today will face a cancer diagnosis.
It's practically guaranteed that cancer will affect you, me, our kids, our parents, our best friends, our spouses…
It's a sad thought, but it's the reality we're facing.
Cancer is a pandemic of global proportions. People's lives are at stake. They're dying due to ignorance and misinformation about cancer treatment options.
TTAC's mission is to educate the world, expose the lies, and eradicate cancer via empowering people with life-saving knowledge and truth relating to all types of cancer treatments.
We will not stop until the entire world is educated and empowered with the knowledge of the truth about cancer.
We're trying to do our part to make a difference and would love your help and support.
Will you help us?
Since May 2014, we've empowered millions of people with real answers and solutions for preventing, treating and beating Cancer naturally.
We've created 4 online docu-series (documentary mini-series), 1 live event and have had 7 launches since our inception & have collected nearly 2,000,000 event registrants (subscribers), with more than 14 million episode views and received thousands of personal letters/emails from people saying "I (or a loved one) am alive today because of your event."
Our affiliate partners have been paid more than $11 million for sharing our events with their audiences through email, Facebook, Twitter, etc. all while sharing pure, high quality content and NEVER sending a sales email to their list while sharing our events.
Our most recent Spring 2017 event with our sister company, The Truth About Vaccines had 464,424 registrant's, a 45% average opt in rate and affiliates averaged a $2.86 EPC and $6.54 EPL.
Our live event webstream in Oct 2016 for The Ultimate Live Symposium had an EPIC impact with a 59% average opt in rate with over 319,311 people who registered.  Our affiliates averaged a $2.32 EPC.
Our docuseries in April 2016 — for The Truth About Cancer: A Global Quest, affiliates have averaged $2.02 EPC earnings per click across all platforms (meaning this is an overall average EPC including Facebook, Twitter and YouTube leads, etc. – not just warm email traffic).
And…
In the last two years, we've donated $400,000+ to the following charities: Independent Cancer Research Foundation (ICRF), Healing Strong, Cancer Crackdown, American Anti-Cancer Institute (AACI), , The Nicholas Gonzalez Foundation, National Vaccine Information Center and Children's Medical Safety Research Institute.
My favorite was donating $10,000 to Cassandra Callender, the Connecticut teenage who made national headlines after being forced chemotherapy against her wishes.
What's coming up next…
Our next BIG docu-series event will be in the Fall of 2017 and maybe the biggest event yet, so make sure to…
Save The Date…
Our next event, The Truth About Cancer Live is coming… Fall 2017!
You may have heard about our Fall 2016 live-event called The Natural Health Symposium where we had over 40 of today's most popular and in-demand health luminaries presenting the "best of their best" insights on a range of important health topics.
This was the first event we did of this kind so we limited the affiliate participation of the live event to only in-person speakers at the event. Although we were super confident from our previous launches that it would still convert like all our docu-series' have, we wanted to do our testing first. And, well, the response & impact…was great with over 319,311 people who registered and 2,217,237 total views of the presentations. Our opt-in page converted at 59% and we had an average $2.32 EPC and that was only with a select few affiliates and speakers as we kept this event more exclusive.
So we're doing it again this year!! This event/promotion uses the same proven and time-tested launch model that we've run 6 times now that has generated more than $11 million for our affiliates.
One thing that's unique and cool about this event is that it's LIVE. This provides the opportunity for conversation and engagement which creates a more interactive and impactful experience for your followers.
It will feature 35 of today's most popular and in-demand health luminaries… including Dr. Joe Mercola, Mike Adams, Del Bigtree, Robert F Kennedy Jr., Andrew Wakefield, Dr. Palevsky, Ocean Robbins, Chris Wark, Sayer Ji and many others!  
These luminaries have committed to present the "best of their best" insights on a range of important health topics in this powerful event.
That means this high-profile event will be in very high demand with your readers… and very engaging and beneficial for them… which will mean great results for YOU.
Please lock in these dates on your calendar:
Pre-Launch: September 26th – October 4th, 2017
Launch (event dates): October 5th – 7th, 2017
Replay Weekend: October 13th – 15th, 2017
We recommend sending at least 3 emails to get the highest conversions and commissions.
TTAC works on a last cookie, first lead referral ID basis, so the earlier you mail and share on social media, the more you'll make. You'll earn 50% on any digital sales and 40% on any physical products. We also pay lifetime commissions and hard code your affiliate ID which is much stronger than cookie tracking alone. (We also cookie and IP track too, because tracking your leads accurately means we get to send you bigger checks 🙂 )
September 26th – October 4th: We suggest sending a full solo BEFORE the event starts (on October 5th) to our already proven video trailer squeeze page similar to this.
October 5th – 7th: We suggest at least 1 full solo on October 4th, the day before the event starts and a full send (or to the unopens) on October 5th as a last chance to not miss out on Day 1's content. Scarcity is key i.e. "It starts tomorrow," "It starts TODAY" and "It started yesterday!" 😉
You can also send every day during the event if you'd like.
October 13th – 15th: Replay Weekend: Optional mailing you can do to boost your sales and provide your list/following with one last opportunity to watch for free. For those 48 hours, your people and everyone in the world can have unlimited access to all 3 days of the event for free.
Will you join the movement and support our mission to empower those with real alternative health and natural solutions / options that will change (and quite possibly even save) their lives…
… AND generate money for you and your business at the same time?
It's truly a win-win-win.
Your Next Step
We'd love to have you join us as an affiliate partner for this amazing event. Your audience will absolutely love the content and together we'll be changing the world and you'll receive tons of cash and prizes for your efforts.
For more details go to our Live Event Partner site and make sure you are signed up for our Truth About Cancer Affiliate Program.
Shoot us an email at: affiliates@thetruthaboutcancer.com confirming your participation and we'll be in touch personally to confirm mailing dates and get you all of your swipe copy and creatives before the event.
Existing Affiliates – confirm your participation to our Affiliate Managers, Jamie Martorano & Mark West: affiliates@thetruthaboutcancer.com.
Be a Hero
Think of how many lives you might save by supporting this movement. Be a hero and share this information with your list, followers and fans. Just click the link below to support our mission and become as affiliate today… you'll be glad you did.

Become an Affiliate Today
Educate – The Truth About Cancer (TTAC) is a company dedicated to educating the masses on natural, non-toxic cancer treatments and the physicians that successfully use them in their practice.
Expose – Our investigations also lead us to exposing the "business of cancer" where the pharmaceutical industry forces us to keep using outdated and overpriced toxic treatments that destroy our bodies and immune systems.
Eradicate – The purpose of this project is to provide free information to the masses, with the primary goals being education and awareness on what cancer really is and how we can prevent and treat it in today's toxic world. Our mission is to eradicate and reverse this epidemic.